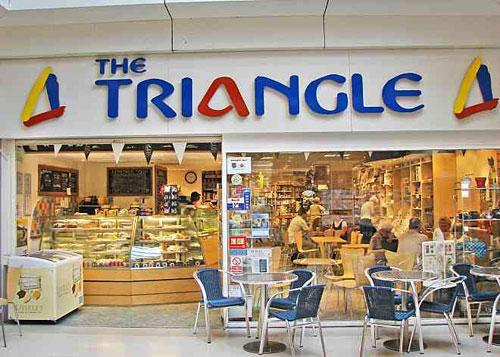 SCROLL DOWN FOR A 'POST-CORONAVIRUS' UPDATE FROM THE SHOP
(June 2020)
The TRIANGLE Bookshop & Cafe can be found in the Kingsmead Shopping Centre, in Farnborough. It offers a range of Christian books, cards, and gifts - and is a resource point for many other items, which can often be ordered in. The cafe provides snacks and light meals throughout the day, and is a popular 'watering-hole' for many people.
The manager, Paul Taylor, says, "The Triangle maintains a presence in the town centre, to serve Churches, Schools and individual Christians and non-Christians alike. Our aim is to help anyone find a resource to provide them with physical or spiritual refreshment for themselves or those whom they meet - neighbours, friends, family or strangers!"
Everyone is welcome at the "Triangle".
For information about the Triangle, please click HERE for a link to their website
'The Triangle will be open from Monday 15 June. We will be here for all your Christian supplies once again, and hope to be able to serve you with a welcome, efficiency and great value. We will be fully Covid-19 compliant re. social distancing, sanitising etc.
There will be special offers till the end of June. There's so much to browse and enjoy including up-to-date titles. Please visit us, encourage us, and support us after this challenging time'
The café can't reopen at this stage, but we hope to offer very light take-away refreshment.
The Lord has kept us safe and now - Your local Christian shop needs YOU! '
Contact: 01252 519172; email: admin@thetriangle.org.uk : online: www.trianglechristianshop.org.uk